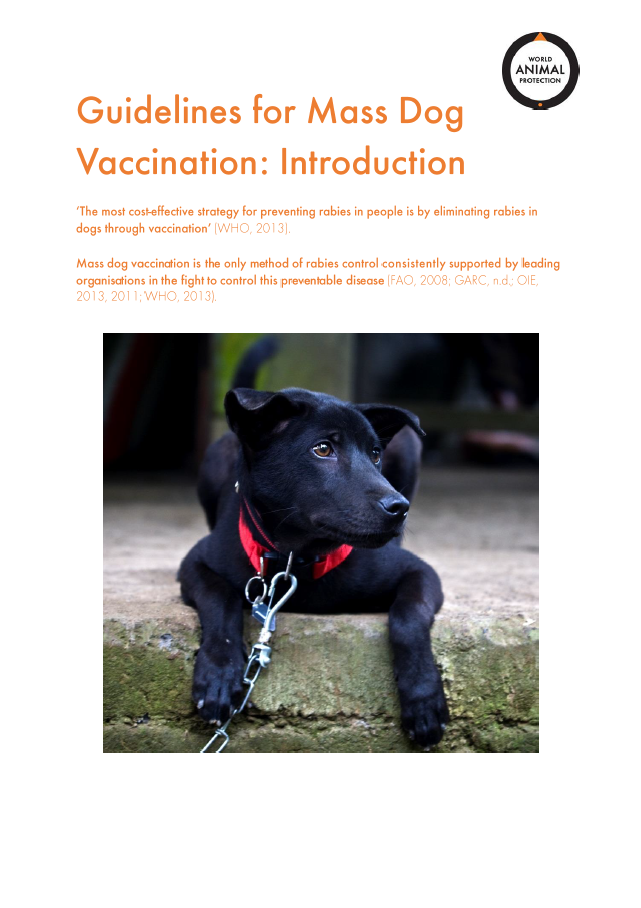 World Animal Protection's 'Mass Dog Vaccination (MDV)' guide provides a comprehensive resource for the planning and implementation of the mass dog vaccination programmes for humane rabies control.  This includes clear instructions on each step / component of a MDV programme; materials required, recommended personnel, risks and references.  In addition to these guides, please refer to your National Rabies Elimination Plans and any local regulations for controlled drugs and animal handling.
This guide is comprised of 9 parts and one annex:
Introduction
Preparation for vaccination
Education and messaging
Dog capture and handling
Vaccine storage, transport and management
Vaccination day
Post-vaccination: Estimating vaccination coverage
Rapid response to rabid and suspect rabies dog alerts
Euthanasia of rabid or suspect rabid dogs
Data collection sheets
Select the language of the file you would like to download below:
YOUR FEEDBACK
Feedback from people like you is invaluable to us.
Help us improve by letting us know how our tools work in practice or by sending us any
suggested documents.