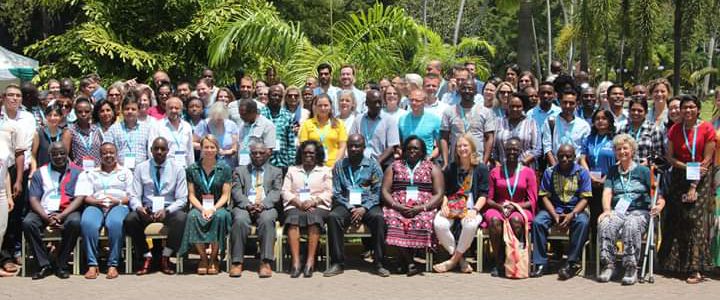 3rd International Conference on Dog Population Management
Date: September 18-20th 2019
Venue: Sarova Whitesands, Mombasa Kenya
Follow us on Twitter #HDPM2019 #united4dogs
Day 1 Workshops:
Workshop presentations playlist
HSI mobile technology for rabies control and sterilization clinics. Tamara Kartal and Amit Chaudhari
Humane Community Development for DPM. Kate Atema. Access ifaw's Humane Community Development e-learning course and toolkits – providing core content for this workshop.
Organisation strategic planning. Melissa Liszewski. Access ifaw's How to Make a Strategic Plan: A guide for Animal Welfare NGOs – providing core content for this workshop.
Selecting and measuring indicators of DPM impact. Elly Hiby. Watch presentation. Access ICAM (2015) 'Are we making a difference?' – publication providing core content for this workshop. Access ICAM impact assessment tool – online tool used during group work to identify indicators and methods of measurement relevant for each DPM scenario.
Shelter medicine workshop. Nat Lee and Katherine Polak. Access Guidelines to Standards of Care in Animal Shelters, by Association of Shelter Veterinarians – providing core content for this workshop. Access pdfs of Natasha Lee's and Katherine Polak's Powerpoint presentations.
Day 2 Presentations:
Setting the scene for humane DPM
Samuel Kahariri. Linking sustainable humane dog population management initiatives to eradication of rabies in developing countries. Watch presentation.
Samuel Wakhusama. OIE – Tools and opportunities in humane dog population management. Watch presentation.
Perceptions of dogs
DPM tools and strategies
DPM case studies
Melania Gamboa Cortes. Dog population management in rabies programmes in Latin America. Watch presentation.
Luisa Margarita Ramirez Suarez. 1st place winner of the learnings and experiences from the Animal Friendly Cities competition: Bogota, Colombia. Watch presentation.
Liat Morgan. Dog Population Management – Israel's unique system. Presentation will be posted post manuscript publication.
Abdul-Jalil Mohammadzai. Engaging effectively with government to control and eliminate canine mediated rabies in Kabul. Watch presentation.
Sangita Sapkota. Significant achievement in DPM: The outcome of mandate of Local Government with well defined stakeholders roles and recognized public participation. Watch presentation.
Day 3 Presentations:
Rabies and DPM – plenary
Rabies and DPM – parallel 1
DPM case studies Europe and DPM tools – parallel 2
Dogs – people – wildlife conflict and collaborations for rabies elimination – parallel 2
Adriana Pisano Beaumont. Exploring Dog-Human Relationships in First Nations communities: A decolonizing framework. Watch presentation.
Jess Bracks. Ethical management of human-derived conflict with wild and domestic dogs: case studies from Oceania. Watch presentation.
Quixi Sonntag. Southern African regional collaborations and capacity building for dog-mediated rabies elimination by 2030. Watch presentation.
Perceptions and human behaviours in DPM
About the Conference
Dogs play important and valuable roles as companion and working animals around the world, but managing their populations is still a challenge for many countries. Unmanaged populations can be a concern for transmission of rabies and other zoonoses, road traffic accidents, conflicts with people, livestock and wildlife, and welfare of the dogs themselves. Humane dog population management (DPM) improves the quality of life for dogs, people and the environment. While there is no single DPM intervention that will work for all situations, success and innovation are happening around the world, and this conference provided a professional opportunity to learn how these experiences could improve your programmes.
The 3rd International Humane DPM conference brought the public sector and NGOs together with specialists in animal welfare, animal health, public health and education, ecologists, economists and social scientists. It featured best practice presentations from leading organizations and academics as well as an international perspective from ICAM, OIE and FAO. The conference provided a platform for sharing DPM learnings, revealing the role of data in evidence-based design and evaluation, and networking between stakeholders to build new perspectives and opportunities. Workshops provided an opportunity to learn more about new tools for improving programme planning, implementation and veterinary services. Delegates left enriched with new insights into population dynamics, management and policy; practical knowledge to support implementation; and enhanced motivation to bring benefits to dogs, people and the environment through humane and sustained dog population management.